Partners
In tandem with others, we are able to save more animals.
Bexar County Animal Facility
What began as raising funds for outdoor kennel runs for this small shelter has grown as their shelter has grown.
In the summer of 2017 we helped gather Hurricane Harvey recovery donations from local businesses such as Sunset Ridge Hardware. They delivered truck loads of donated supplies to coastal shelters and animal owners in need.
We help place animals from their shelter such as Bud, an adorable Border Collie mix whose new family takes him on adventurous vacations to their second home in Utah. Tonks and Minerva are two lucky felines who now roam their large outdoor enclosure in the hills north of San Antonio. We found donated kennel pads for their rescue animal transports to Washington State and Wisconsin. They have had us distribute donated pet food to cat colony feeders, pet owners in need and to The Cannoli Fund, a resource for downtown San Antonio pet owners. Low cost vet services for some of our cat rescues have been much appreciated from this small shelter who makes a big difference.
San Antonio Animal Care Services
San Antonio Animal Care Services run the Community Cat Program (CCP). We often receive calls to help manage feral cat colonies whereby we humanely TNR (trap, neuter, release) the cats to control the population. CCP provides free surgery 3 days a week for feral cats we humanely trap. After being fixed and ear tipped they spend a few days recovering with us and then we release them back into their colony.
We foster dogs pulled from this high volume city shelter, many are deemed urgent which means they are at risk of being euthanized to open space for more incoming animals. We network the urgent dogs and pull them out if we can to save their lives. ACS provides spay/neuter surgery, vaccines and microchips for dogs pulled. ACS also provides free microchips everyday to resident pet owners of San Antonio.
Located in Boerne, TX Charming Pet Rescue has taken in and rehabilitated a number of severely shut down dogs. We received an urgent plea for Dude, a very fearful Bulldog. Turns out Dude could not see. We connected with Charming Pet Rescue who fell in love with his handsome Bulldog looks. He was brought to Charming Pet where he was evaluated by their rescue partner Dr. Matt at Vet Ranch. Click here to see how Dude's entropion eye surgery transformed his life.
Feather and Whisper, were seen dumped in an alley. We received a call, went to the location with a rescue team and trapped them. The sisters trusted no one but now they have been transformed over many months in the care of Charming Pet who placed them with a special foster. Billy Bob who was fed by a homeless man who passed, was given a chance at Charming Pet to know what it's like to live without fear on their campus. We assisted Charming Pet Rescue placing one of their dogs in a forever home in South Carolina. Cona was emaciated upon intake and it was unknown whether she could pull through. Today she is a gorgeous, healthy dog who very much enjoys boating. We have helped place Inky, Hans and Maggie and look forward to helping more dogs and continuing to raise funds to help with vet costs for this great rescue.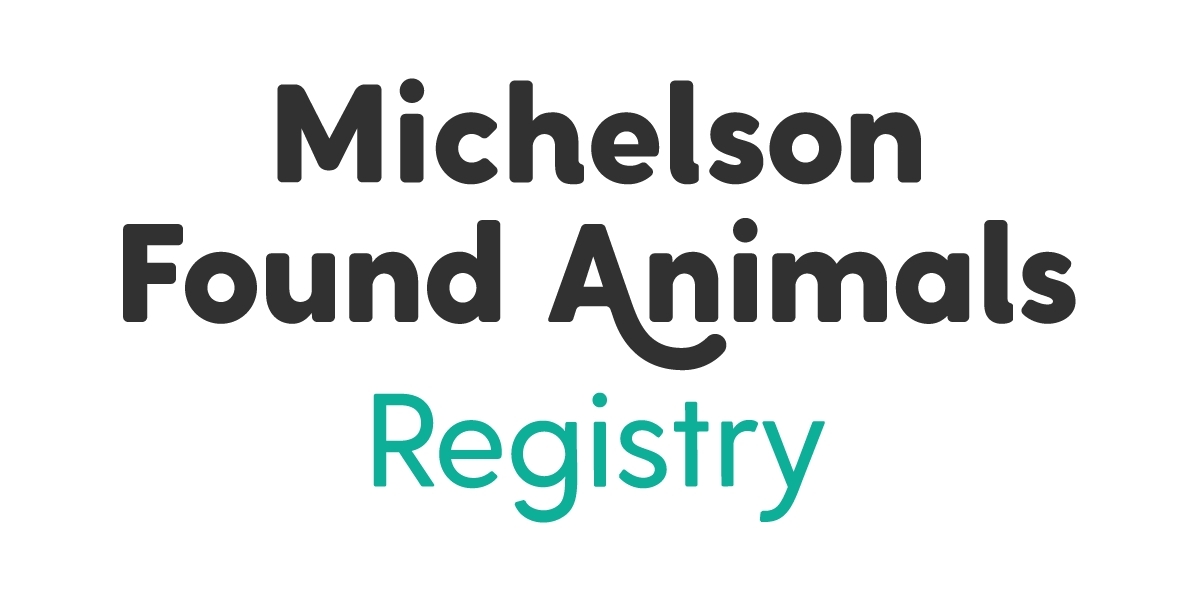 Michelson Found Animals Registry
We use Michelson Found Animals Microchips, a non-profit supporting other non-profits. We also have a microchip scanner on hand should anyone need help scanning a found pet.
REGISTRY IS FREE….to register, free to use, free to update. Many microchip registries claim to be free, but often end up charging for updates and transfers. They never charge us or pet owners for their registry – ever.
San Antonio Feral Cat Coalition & San Antonio Humane Society
San Antonio Feral Cat Coalition provides low-cost surgery grants to trappers who have taken their free TNR class. We utilize this service at the San Antonio Humane Society's new Brooks Spay Neuter Clinic. If we come across kittens who are able to be socialized SAHS will sometimes accept them. If SAHS is unable to take them we get them adopted out locally or transport them to shelter who need cats.
After being fixed it was discovered Bella was super friendly. She tested positive for FIV, an immune virus that is not deadly but is contagious to other cats. It would not have been prudent to release her back to her colony if we could find her a home. Bella gained her Delta wings and landed in an amazing home in Atlanta as an only pet. She now spends her days gazing out the screened porch at birds, deer and other wildlife.
We partner by providing healthy, adoptable cats to this wonderful shelter in Colorado. From networking their adoptable dogs at the Farmers Market to entertaining their adoptable felines in their free roaming cat room, we enjoy helping when we are in Aspen. The yearly Aspen Animal Shelter Pet Calendar is our opportunity to thank them by sponsoring pages which typically feature animals we have brought to them.
Pictured is slender Eloise welcoming Bandana Boy, a foster dog visiting from Texas.
Saving Carolina Dogs Rescue & Adoption Network
Saving Carolina Dogs, based in Rhode Island, rescues Carolina Dogs at risk in shelters nation wide. If a Carolina Dog is thought to be in San Antonio we connect with each other and start planning. We provide on site evaluation of the dog at ACS, transportation to a vet, a foster or the adopter and we have fostered for them. SCD does a wonderful job of lining up forever homes swiftly as they have a waiting list of adopters wanting a rescued Carolina Dog.
Looper was at risk of being euthanized at the city shelter in San Antonio. He was deemed urgent and he needed to be tagged by SCD by 5:00 to save his life. We were able to provide a place for him to stay while he healed from his neuter surgery, got over kennel cough and we prepared him to fly to his forever home in Florida. Read more about Loopers cool story and how he got his name in our Rescue Tails here!
The mission of The Cannoli Fund is to improve the lives of companion and community dogs and cats in the King William and Lavaca neighborhoods of San Antonio, by:
• controlling the population through providing advice, resources, transportation and financial assistance for spaying and neutering of dogs and cats
• assisting with medical expenses for dogs and cats in need, and
• educating the community on the humane treatment of animals.
Footbridge Foundation has partnered with The Cannoli Fund to find forever homes for dogs and cats who were originally helped by their organization. From placing kittens who came from feral colonies that Cannoli Fund worked to get spayed & neutered to stray dogs who were found by residents and vetted by Cannoli Fund.